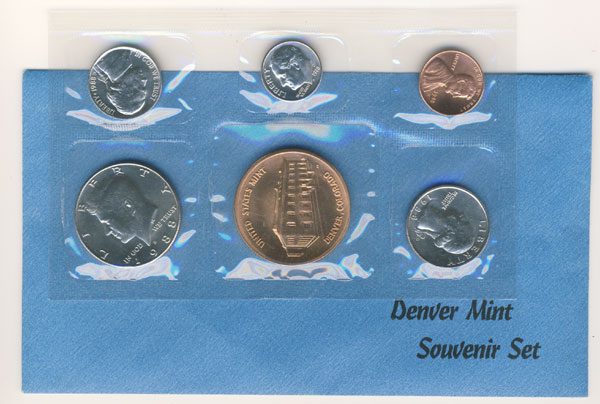 1988 Denver Mint Souvenir Set
Souvenir Sets continued to be issued by the Philadelphia and Denver Mints for the years from 1988 to 1998 (Buy on eBay). The format of the sets was identical to the previous years, with each set containing the Lincoln Cent, Jefferson Nickel, Roosevelt Dime, Washington Quarter, and Kennedy Half Dollar for the respective year along with the Bronze Medal from the respective mint. The sets were similarly packaged in cellophane packs placed within light or dark blue envelopes labeled "Philadelphia Mint Souvenir Set" or "Denver Mint Souvenir Set".
During this time period, mintage levels for the Souvenir Sets fell to minimal levels, with production estimated to be in the low thousands for each year. This makes the sets difficult to track down and often priced at a premium. Some of the later date sets may also contain coins with proof like surfaces, adding to the appeal.
The Souvenir Set was officially discontinued after 1998 with the introduction of the 50 State Quarters Program.